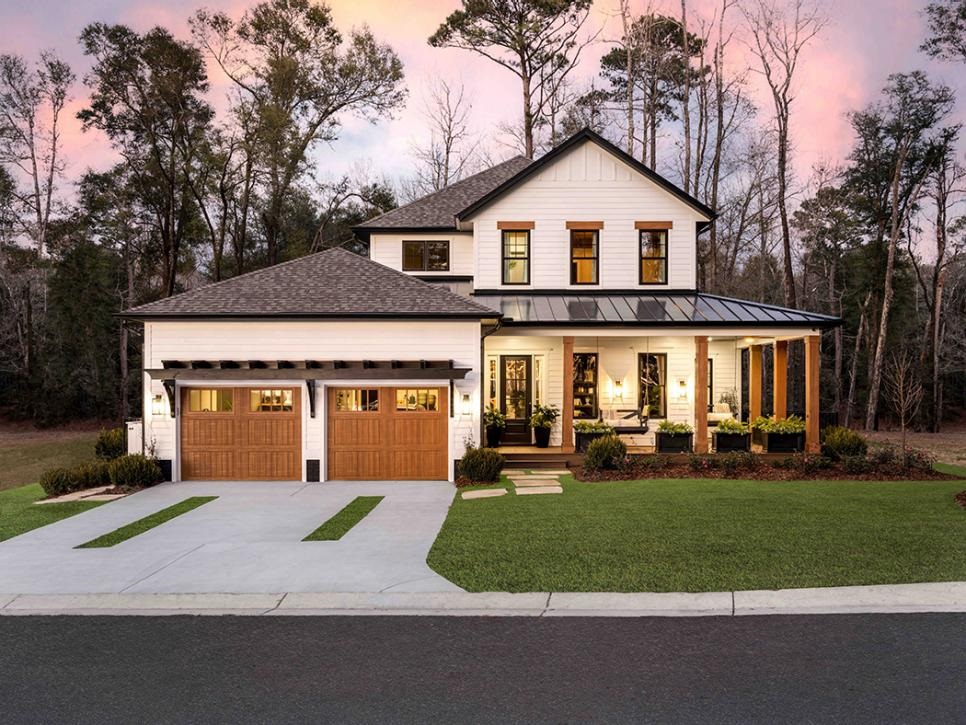 2022 HGTV Smart Home Giveaway: Not the Only Thing Attracting People to Wilmington, NC
Every year, HGTV gives away a FREE Smart Home to one lucky U.S. resident — this year, the home happens to be located in Wilmington, North Carolina.
The property is situated a short drive from an airport and in close proximity to the thriving historic downtown river district. The 3-bed, 2-and-a-half bath home is designed, furnished, and ready for the contest winner to move in. Not only that, but it's set up with the latest smart technology and clever storage organization.
If that's not enough, the network is throwing in a 2021 Mercedes-Benz GLC 300 and $100,000!
I know…hard to pass up, right?
But that's just the tip of the iceberg. Wilmington and the surrounding towns have a lot more to offer this just a chance to win a FREE home.
Here are a handful of Wilmington, NC's most attractive qualities:
It's a beach AND river town!

Not only does Wilmington sit right along the Cape Fear River, but it is also just a 20-minute drive from Wrightsville, Carolina, and Kure Beaches, and a short ferry ride from Southport and Bald Head Island.

So, whether you're drawn more to the artsy, eclectic downtown charm or the sweet, relaxing beach life, you'll be able to find a spot in the Wilmington area that uniquely fits your style.

There is an airport.

Proximity to the Wilmington International Airport is another great benefit. Not only can you easily catch flights to visit family in the states, but you can also take trips to spectacular worldwide destinations.

Along with the beach and diverse culture (and your wonderful company, of course), the nearby airport is the perfect way to encourage family and friends to come for a visit.

It offers a quieter lifestyle.

Many U.S. beach towns are overcrowded and tend to make coastal living feel a bit less relaxing. This is not so with Wilmington!

Although there are plenty of people and an abundance of resources and opportunities, the town is spread out, which makes it seem far less crammed. Even though the area has seen major growth over the last few decades, it has been able to hold on to a certain small-town character and feel.

Taxes aren't ridiculously high.

A large majority of my clients move down to Wilmington from the northeast corner of the country. Why? There are a few reasons, but one of the biggest — taxes!

While property and income taxes in northeastern U.S. states can reach up to nearly 13% of a resident's income, North Carolina taxes are much less burdensome, resting just above 8%.

That's quite a difference!

Home prices are much lower, too!

The housing market is plain scary in 2022 – especially in northern states like New Jersey, Maryland, New York, and Maine. Even Virginia prices are astounding! The further you travel north along the east coast, the more expensive homes become.

North Carolina homes aren't selling at such high rates – the average home selling for over $100,000 less than many New England homes.

There's lots to do.

The beaches and the riverside downtown offer PLENTY of fascinating things to do.

How would you like to spend your weekends?...Eating good food and listening to live music? Browsing local markets and shops? Or perhaps even enjoying a local festival or event?

The entertainment options are endless!

Local nature-lovers can enjoy lounging on the beach, hiking at Carolina Beach State Park, strolling through the beautiful Airlie Gardens or boating, kayaking, or wakeboarding on the Intracoastal Waterway. History buffs will also feel right at home, in close proximity to Battleship North Carolina and lots of gorgeous 19th century hom

Downtown Wilmington is home to a unique collection of shops, selling everything from authentic spices and teas to specialty clothing to local pottery, art, and goods.

In addition to shopping, downtown features countless delicious restaurant options. Whether you want to eat seafood on the riverfront, grab a scrumptious burger, or try something brand new, you'll always find something to fill your craving.

And if you're a big craft beer fan, you're in luck! The Wilmington bar scene is expansive, including a wide range of local joints – everything from dive bars to breweries.

As if the local activities and events aren't enough, Wilmington is near many other stunning destinations, making for some extraordinary day and weekend trips.
It's family friendly.

Ranked 16th in North Carolina, the New Hanover County School District receives high ratings in a number of categories – including academics, teachers, clubs, activities, college prep, diversity, and more!

Plus, with the University of North Carolina – Wilmington and Cape Fear Community College closeby, high school and college students can take advantage of a variety of fantastic educational opportuniti

In addition to the schools, the town offers a wide range of kid-friendly activities and events, from the Carolina Beach Boardwalk Amusement Park to a variety of unique festivals and fairs.

Winters are typically MUCH warmer than up north.

Alright…if we're being honest, this is the crux of the matter. The moderate Wilmington weather is AMAZING – especially when compared to the bone-chilling winters in the northeast.

Although winter temperatures can dip down slightly below freezing, the chilly weather never stays for too long. And it almost NEVER snows! Spring comes early and fall sticks around for a while, so most of the year, you'll be bragging to your family up north about the beautiful weather you're experiencing.
It's a great place to retire.

Wilmington is beautiful. It's bursting out the seams with activities and opportunities. But is it a good place to actually…live?

Yes!

The Cape Fear Region has been a high-growth retirement destination for years. After leaving behind the stress of a long career, people often appreciate Wilmington's quiet charm and active nature.

Residents can choose from numerous high quality health care options for primary care, orthopedics, cardiac rehab, and more! The region is also home to some exceptional nonprofit and social service agencies, each dedicated to giving residents the care and support they need for safe, healthy living.

The region is growing steadily.

In recent years, the Wilmington area has become one of the most popular regions for inbound relocation. The charming coastal town offered a safe haven for those who found themselves stuck in big, congested cities during the pandemic, boosting its popularity sharply in 2021.

Now, in 2022, the city still ranks high on "most moved-to" lists. This newfound popularity is spurring a significant influx of business growth and community development that will no doubt create opportunities for more homebuyers down the road.
Ready to start looking for a new home in the Wilmington area?
Let me help you out!
A local real estate agent with nearly 20 years of experience, I can take away the stress of finding your dream home amid the rocky housing market.
Contact me today
or use our
home search tool
to browse current local listings.
Featured Image – Source: HGTV/Robert Peterson